On 26th March 2020, the Government instituted a policy called "Everybody In" to tackle rough sleeping. Covid-19 put rough sleepers at even higher risk than normal, as shelters are hard to socially distance, rough sleepers are more likely to have some of the underlying conditions that increase the virus' mortality rate, and their ability to pay for and access basic necessities would be impacted by the lack of people in the streets and closed shops. Everybody In released £3.2 million to local councils and asked them to accommodate rough sleepers wherever and however they could. The scheme was broadly successful; around 37,000 in England people were put in to emergency accommodation during its 12-week window. Everybody In's successes raise questions about how a problem as seemingly intractable as rough sleeping was substantially ameliorated in the middle of a global pandemic, and whether this can inform policy going forwards.
Rough sleeping is possibly the first thing that comes to mind when people think of "homelessness", but it is only part of the picture. Homelessness also encompasses those who spend the nights in shelters as well as people living on the couch of friends or relatives. Due to its nature, accurate statistics on homelessness are hard to calculate. A government survey found just under 5000 people sleeping rough in England in 2018 while English local councils had to make over 100,000 decisions to do with homelessness that year. These are both likely to be underestimates; charities such as Shelter estimate as many as 280,000 homeless people in England. Note that all of these estimates are from before Covid made life even more precarious for millions. The difficulty in even articulating the scale of the problem illuminates the difficulty in solving it, but the 37,000 people helped by Everybody In is still a significant amount under any estimate.
Everybody In acted as an unintentional trial of the "housing first" policies that are considered key to ending the cycle of homelessness. Helsinki is commonly cited as having practically erased rough sleeping due to housing first policies, and non-governmental trials in the UK have had success too. The core of a housing first policy is providing housing upfront with no conditions attached. This is contrary to the usual UK approach, where people have to move through the stages of temporary accommodation and meet certain criteria in order to secure a permanent residence. Everybody In provided housing without the usual conditions attached. As a result, some areas saw massive success in moving people into more settled accommodation in the months after the scheme. The positive results were not uniform, but that disparity can reasonably be attributed to the withdrawal of government funding forcing individual councils to choose how strongly to commit to the project. The fact that there were successes at all during a pandemic show that the potential of a housing first policy is high in normal times.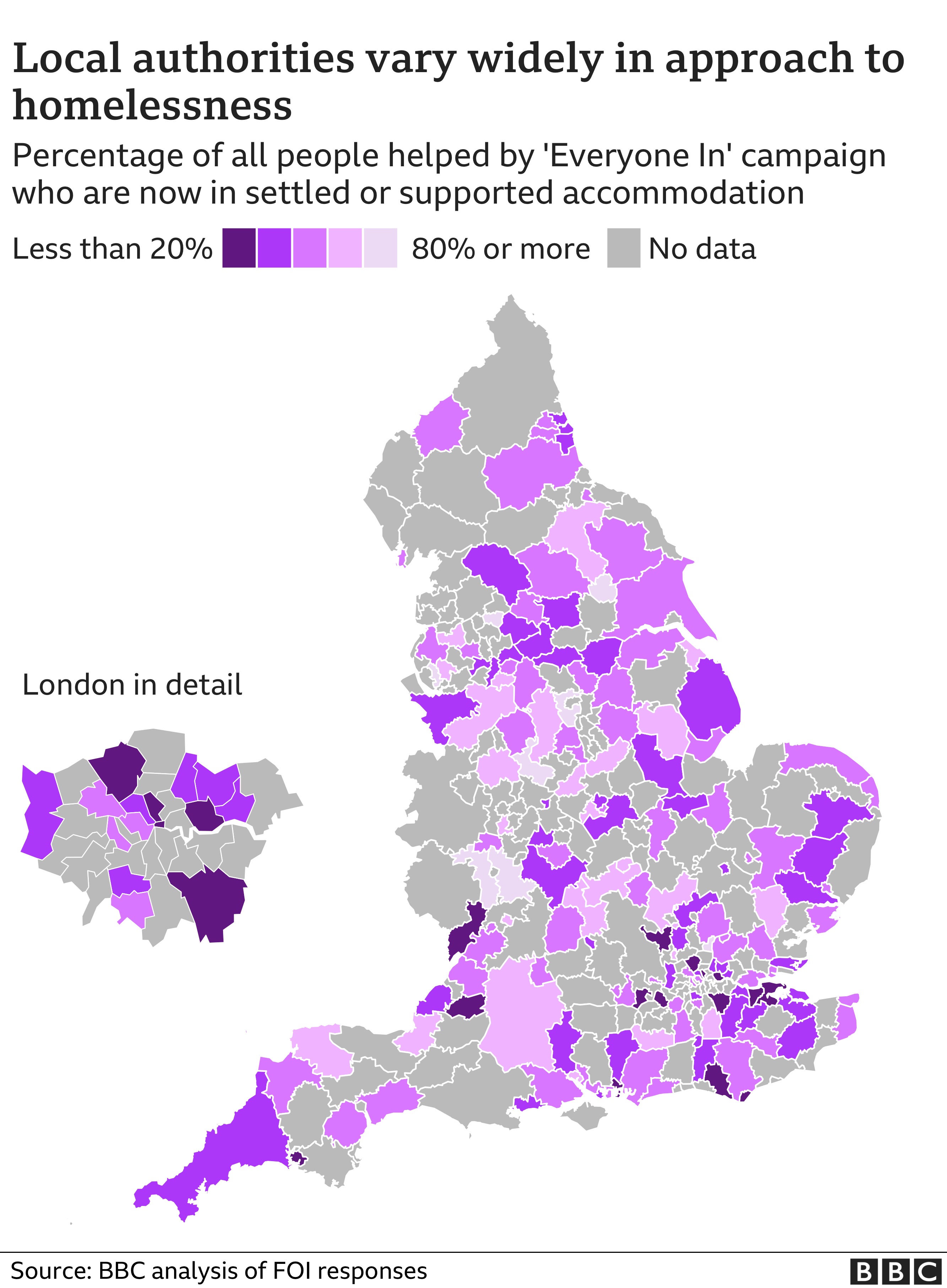 Yet in normal times the UK is not able to provide the spaces that Everybody In could; hotels and student accommodation, out of use during Covid, providing the initial emergency space. With over 1 million people on the waiting list for social housing, the supply of physical living space is limited. Political parties tend to focus on this supply, with the governing Conservatives including a pledge to build more houses in every manifesto since 2015. But supply is only one aspect of the issue. Demand for housing is relatively fixed, as it is a necessity for everyone, which means people's access to housing is controlled more by their ability to pay rather than their desire to. Thus, an equal focus needs to be given to making sure people are able to afford housing. Finland's housing first policy demanded its tenants pay rent, but made sure that they were always provided with housing benefits if they could not afford it. The UK government needs to make sure that housing benefits and council tax discounts are sufficient to keep people in accommodation they might be provided with. They need to make sure there is sufficient legally defined affordable accommodation to prevent profiteering landlords from raking in the housing benefits (which is what happened before under the previous Labour government). That means some form of rent control, which would benefit more than just the most at risk from homelessness.  Crucially, there must be no conditions on the receipt of support to pay for housing, as this allows for the stability that is at the heart of housing first schemes. Everybody In has shown that housing first can work in England, and that with political backing, more permanent solutions to homelessness and rough sleeping can be found.